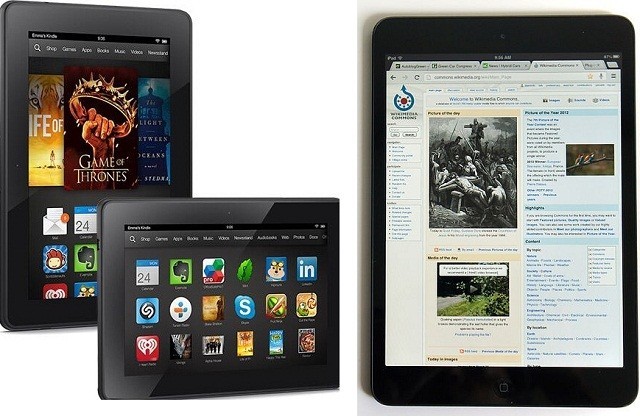 Apple's iPad Mini has always been the first option for those who wish to own a tablet but Amazon has now released its Kindle Fire lineup which leads to a confusion to the buyers.
Here is a detailed comparison between Amazon's newly launched Kindle Fire HDX and Apple iPad Mini.
Display and Design
With Kindle Fire HDX, Amazon offers a display of 7 inch with a screen resolution of 1920X1200 pixels, which is much smaller than what iPad Mini carries. The device features a 7.9 inches display with a screen resolution of 1024X768 pixels, reported PC Mag.
The Kindle Fire HDX is lighter compared to iPad Mini. Amazon has preferred plastic for its Kindle Fire HDX tablets whereas Apple iPad Mini has the cover of aluminium, giving it a more elegant look.
Processor, RAM and Internal Storage Capacity
Amazon's Kindle Fire HDX will be powered by the latest 2.2 GHz quad-core Qualcomm Snapdragon 800 whereas Apple's flagship device carries a 1 GHz dual core processor.
Kindle Fire wins a point as the gadget carries a 2GB RAM whereas Apple's Kindle Fire HDX has RAM of just 512MB. Both the devices carry the same internal storage capacity and are available in three variants of 16GB, 32GB and 64GB.
Wireless
Both the gadgets have WiFi connectivity along with the capability to connect to LTE mobile data models.
Battery Backup
The battery life of Amazon's Kindle Fire HDX is estimated to be up to 11 hours and the battery life of Apple's iPad Mini is calculated to be up to 10 hours.
Camera
Apple's iPad Mini scores when it comes to camera as the device features a 5 megapixels rear-facing camera along with a front facing camera of 1.2 megapixels. But, Amazon's Kindle Fire HDX carries a 720p front facing camera for video calling and the rear camera is missing from the device.
Software
The Amazon Kindle Fire HDX carries the company's newly launched Fire 3.0 operating system also known as "Mojito" which is still an Android version hence the users will have access to all the Android applications. The tech giant has introduced another feature called Mayday button which will provide the users with fast access to round-the- clock tech support.
The iPad Mini will now be updated with Apple's recently launched software iOS 7. Adding to that, the Cupertino-based company has recently launched the iOS 7.0.2 update to eradicate the security flaws.
Just like Apple AppStore, Amazon also offers a great deal of applications to its users.
Price
The 7 inch Amazon Kindle Fire HDX costs around $230 whereas the iPad Mini is placed at a higher price of $330.