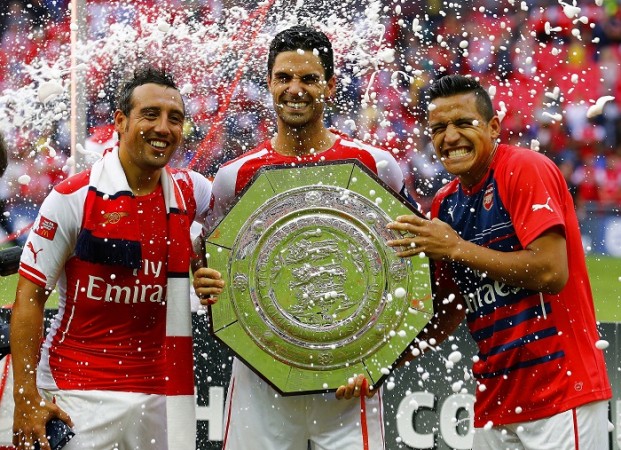 The best thing about the start of a season is that you get to watch just how the latest summer signings are gelling with their new teams; if they look like a good fit; if they seem capable of cutting it in the English Premier League; if the manager and/or the formation is right for them.
Watching Arsenal play Manchester City in the Community Shield on Sunday, it does (even if it might be a little premature to make judgements) seem like Arsene Wenger has brought in a few gems during this summer transfer window.
Below is a look at how the three new signings who played for Arsenal in their convincing 3-0 win against Manchester City at Wembley fared on Sunday.
Calum Chambers: With Per Mertesacker yet to return from holiday, and Thomas Vermaelen and Johan Djourou sold, Chambers was always going to be the obvious choice at centre-back alongside Laurent Koscielny. You usually associate the central defensive position with a more experienced player, but Chambers showed time and again just why Wenger shelled out £16 million for the teenager.
He was assured, calm and collected. For instance, early in the game, when Arsenal were passing the ball around at the back, he was put under pressure by a City man with little space to manoeuvre; but Chambers was hardly perturbed, and easily negotiated the pressing to find his defensive partner Koscielny in space.
Yes, there were a few "oh dear, that is not great" moments, especially when Edin Dzeko eased past him; but those moments were few and far between and for a 19-year-old to play with the kind of conviction that he did, it sure does bode well for his and Arsenal's future. In fact, what Sunday showed was that Chambers is already ready for the big stage.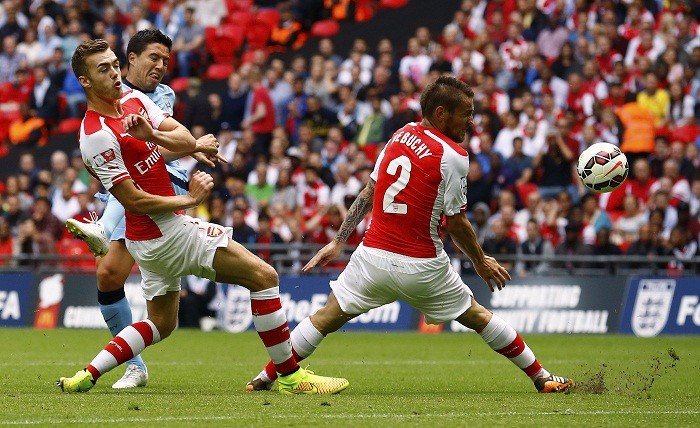 Mathieu Debuchy: Sometimes you get a player, who from minute one, looks like he has been playing with the club for years. And that is precisely how Debuchy looked. It was almost as if Bacary Sagna, ironically watching from the stands for his new club, had not even left.
Debuchy was almost faultless in the Community Shield game against Manchester City, and enjoyed all the space that Alexis Sanchez left for him on the right as the Chilean drifted inside. The right-back did look a shade heavy-legged at times, but that is more due to the fact that he still needs some training under his belt to get back to tip-top shape.
The France international also showed he is a much better defender than people give him credit for, with that early block, where he put his body on the line to deny Samir Arsenal-fans-do-not-like-him Nasri immediately endearing himself to the Gooners.
Alexis Sanchez: And finally we come to the man that every Arsenal fan wanted to see, and maybe even some of the neutrals. The Chilean did not have the most unbelievable of games, and he clearly still has a way to go before he can become that world beater everyone wants him to be.
However, in those 45 minutes of first half football, you could see the kind of player Wenger has got on his hands. Quick, intelligent and someone who is always looking for the ball. Had his passes been a little more pinpoint on Sunday, he would have added a couple of assists to his kitty.
Sanchez could also have taken on a player or two more often, rather than looking for that pass; but that will undoubtedly come with time and as he builds his confidence in this league.
The former Barcelona forward showed he can play two ways – drop deep to pick up the ball and storm forward, and also make those runs in behind. That is a defender's nightmare, because the man marking him will just not know whether to stay or follow him, because in the blink of an eye he can turn and zoom past you to get through on goal.
Sanchez played a role in the first two goals for Arsenal, with the second one coming after he found Yaya he-is-not-so-bad Sanogo with a nice through ball. The Chile international and Debuchy can forge a lethal partnership down the right, and Sanchez will, no doubt, be able to do the same from the left side as well, with Kieran Gibbs, who was outstanding for the Gunners at Wembley.
It just remains to be seen if Wenger uses him in a more central role this season.
Plenty of positives for Arsenal to take from this match, even if it was only a friendly. With David Ospina still to get a run-out and Wenger expected to make a couple more signings before the transfer window shuts, the signs do point to something nice and bright.