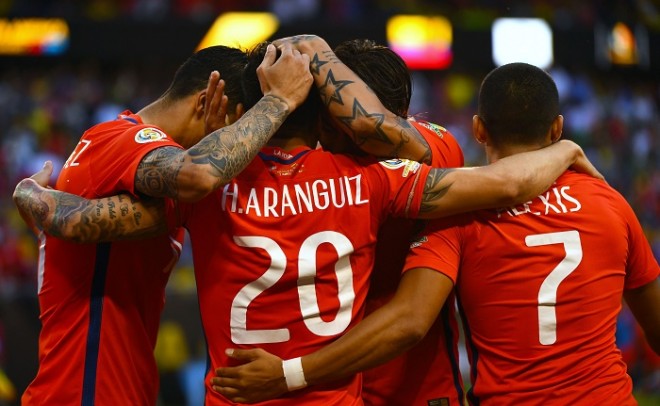 Reigning champions Chile have returned to the Copa America final after a comprehensive victory over Colombia in the second semifinal of the tournament at the Solder Field Stadium in Chicago, Illinois on Wednesday. It will now be a repeat of last year's final as Argentina will lock horns with Chile in the Copa America Centenario summit clash on Sunday.
Charles Aranguiz and Jose Pedro Fuenzalida scored for the defending champions in the second semifinal against Colombia. Both goals were scored in the first half.
After those two goals, things became difficult for Colombia. Carlos Sanchez even saw a red card in the 57th minute of the match and that reduced Colombia down to 10 men. That was probably the final nail in the coffin, as Chile kept on pressing for more goals right till the end.
Aranguiz opened the scoring in the seventh minute of the game with a shot from close range to put Chile ahead. Just four minutes later, Fuenzalida doubled the lead for Chile.
Alexis Sanchez lost his marker and went through the Colombian defense. He went for goal, but the ball struck the woodwork and landed on Fuenzalida's feet who tapped it into the empty net to make it 2-0.
Torrential rain then delayed the second by over two hours. The weather was so bad that the fans had to be vacated from the stadium as there was thunder and lightning in and around the ground.
However, when play resumed Chile held on to their lead right till the end and entered the Copa America final for the fourth time in the history of the tournament.
Chile had never lost a semifinal in Copa America before, and they maintained that record with victory over Colombia.
Last year, La Roja beat Lionel Messi's Argentina to lift the Copa America trophy. They will have yet another chance to repeat the same this year as well.
Also click here for the highlights of Copa America 2016 second semifinal.