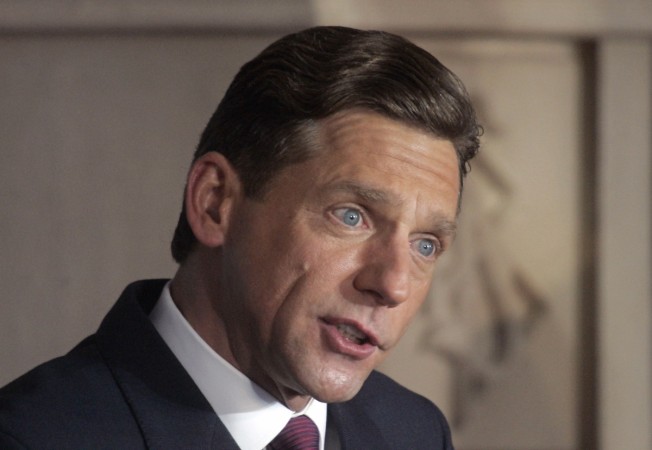 The head of the Church of Scientology, David Miscavige, hired detectives to spy on his father who he feared could leak out information about the secretive organisation.
Ronald Miscavige Sr., who had left the church more than two years ago, was tracked closely for 18 months by detectives who spied on his emails, eavesdropped on conversations and installed a GPS system in his car, according to The Los Angeles Times.
The paper accessed documents of police interrogation of one of the detectives, Dwayne Powell, after his arrest in 2013 on suspicion of obstruction after he was found with rifles, handguns and ammunition.
He revealed that the Church of Scientology hired him for $10,000 a week to spy on the 79-year-old father of Miscavige.
"When Ron would go to the library to check his emails, they would stand behind him and take pictures of the screen. When he would be eating at a restaurant, they would sit nearby or at his table and listen to his conversations. If Ron was in his vehicle on the phone, they would pull up next to him and monitor his conversation," the report said.
In a shocking revelation, Powell also divulged how Miscavige had asked the two detectives to not intervene when they assumed that his father was having a heart attack.
The spy said that he and his partner had seen the older Miscavige slump while loading his car, and they feared he was going to die of a heart attack.
But the Scientology head apparently said that "if it was Ron's time to die, to let him die and not intervene in any way," according to the documents accessed by LA Times.
The emergency, however, passed without harm, according to the report.
The documents corroborate a disclosure by Ronald Miscavige and his wife to the police last September. They had said that their son was "obviously having them watched because they left the church two years ago" as he feared they could go to the media with details about the abusive ways of the church and its leaders.
However, Miscavige's office dismissed any such connections with the detective.
"Please be advised that Mr. Miscavige does not know Mr. Powell, has never heard of Mr. Powell, has never met Mr. Powell, has never spoken to Mr. Powell, never hired Mr. Powell and never directed any investigations by Mr. Powell," Miscavige's attorney told the paper.
Miscavige took over the reins of the church in 1986 after the death of its founder Ron Hubbard, a science fiction writer who founded the Church of Scientology in 1953. Scientology is often regarded as a cult that believes in an alien ruler who infiltrated Earth and humans.