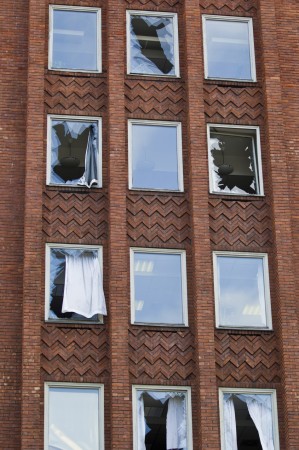 A sex session turned fatal when a Chinese couple fell to their deaths from a window.
The couple was reportedly having sex while leaning against the window of an apartment block in the Chinese city of Wuhan. The incident happened when the window they were leaning against shattered.
Witnesses told media that the man and the woman clung to each other as they fell on the ground.
"With the two of them holding each other tight, they fell out of the building," a source told The Sun.
Local media published the pictures of the two lying on the ground near a bicycle covered in sheets by police. Pictures also show blood stains near the bodies and on the pavement.
There have been no other reports of anyone injured in the incident. It remains unclear as to which floor the couple fell from.
Local media reports suggest that the window pane which shattered was apparently of low quality.
Witnesses also said that the day was humid and because of which the couple came closer to the window to keep cool.
However, this is not the first bizarre incident of people dying which having sex.
Earlier in March, a woman, identified as Mai Desire, was mauled to death by a lion when she was having sex with her boyfriend in the bushes near a village in Zimbabwe. The boyfriend managed to escape from the spot.
"Unfortunately the woman, who was also known as Mai Desire, was mauled to death by the lion but her boyfriend managed to escape naked and he was only wearing a condom. The two were having their quality time near Mahombekombe Primary School," a reliable source told My Zimbabwe.