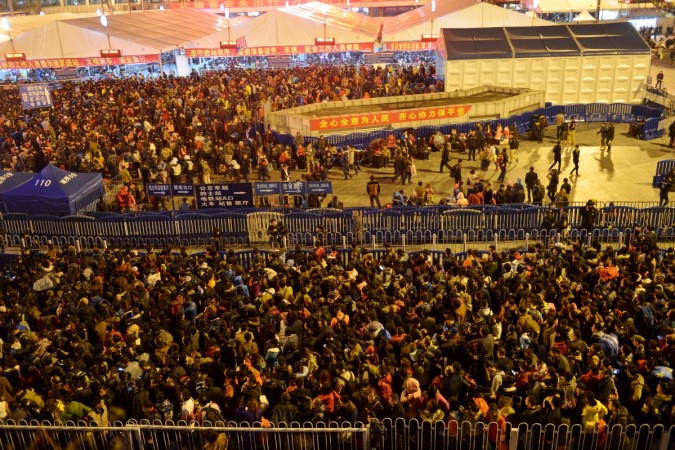 More than 100,000 migrant workers trying to go home before the spring festival in China were stranded on Monday at two railway stations in Guangzhou city, the largest city and capital of the Guangdong province, due to extreme winter in eastern and central China, which delayed the arrival of trains.
Some 100,000 people were stuck at the Guangzhou and Guangzhou East railway stations, by Monday afternoon, reported AFP. The scores of workers were trying to get home in time for the Lunar New Year festivities on 8 February. The 40-day rush in China is believed to be the "greatest annual human migration on Earth".
Snowfall in eastern and central China delayed 23 trains on Monday, causing chaos at the stations leading to fears of riots and stampedes.
Some 4,000 security personnel are overseeing the two railway stations, AFP reported.
About 176,000 passengers were expected to travel through Guangzhou on Monday alone.
The situation in the area has led to the declaration of level-two emergency by authorities, The Guardian quoted local media as saying.
Around 291 crore trips via railway, road and air are expected to be made, reported Xinhua.
The police have issued statements asking travellers to reach stations close to departure timings instead of well before time, as it adds to the already bursting-at-the-seams situation at the two stations.
The "Spring Rush" or "Chunyun" is a travel period that begins 15 days before the Lunar New Year festivities are due to begin. Factory workers and others from metro cities travel inland, heading home for celebrations.