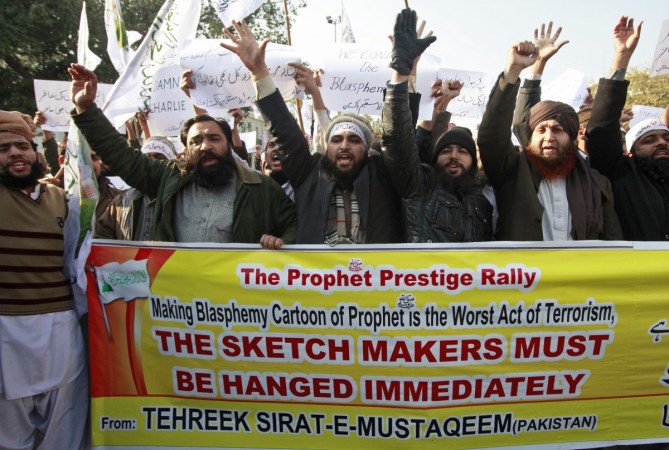 Four people were killed as violent anti-Charlie Hebdo protests broke out in the west-African nation of Niger, as protesters set several churches and French centers on fire on Friday to condemn the magazine's cartoon of Prophet Mohammed.
Three civilians and one policeman were killed in Niger's Zinder city, while 45 people were injured as protests broke out after Friday prayers. Angry protesters also set a French cultural centre alight.
"Some of the protesters were armed with bows and arrows as well as clubs. The clashes were very violent in some places," a witness told BBC.
All the deceased had gunshot wounds, a doctor said.
"We've never seen that in living memory in Zinder. It's a black Friday," a local official told AFP.
Protests in Pakistan also turned violent on Friday, in which an AFP photographer was shot and three others were injured, as protesters demanded that the staff of Charlie Hebdo be hanged.
AFP photographer Asif Hassan was shot and seriously injured during the protests, but was out of immediate danger after a surgery. He is said to have been caught in the crossfire as the police and protesters shot at each other, AFP reported.
The new Charlie Hebdo edition features a cartoon of the Prophet holding a 'Je Suis Charlie' sign on its cover page, which has sparked angry reactions and protests across Islamic countries.
In Jordan's Amman, 2,500 people protested with banners that read "insulting the prophet is global terrorism".
Thousands of Muslims also took to the streets in Mali to protest against the French satirical weekly.
Protests in Algeria turned violent as protesters hurled rocks and fireworks at security forces in the capital.