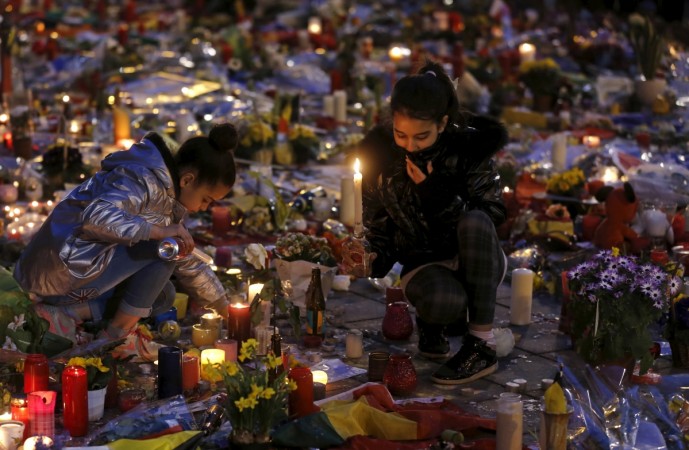 The death toll from last week's attacks at the Brussels airport and metro rose to 35 after four victims died overnight Sunday, Belgian officials said Monday. Belgium also charged three people with "terrorist activities" Monday, days after the March 22 attacks carried out by the Islamic State group.
Death toll
Belgian Health Minister Maggie de Block said on Twitter Monday four victims had died in a hospital, bringing the toll to 35. The BBC had earlier said the toll had been revised to 34, including the three suicide bombers.
People from over 40 nationalities were killed or injured in the Brussels attacks, including Americans, a Chinese, a British national, and several from other European nations of Germany, Netherlands, Sweden, France and Belgium itself. Several others, including an Indian techie, are still missing, nearly a week after the attacks.
Terror charges
Three people, identified as Aboubaker O, Mohamed B. and Yassine A., who were arrested in Belgium over the weekend, were "charged with participation in the activities of a terrorist group," Belgian prosecutors said without making references to the Brussels attacks, AFP reported.
Belgian national Fayçal Cheffou was the first to be charged with terrorist killings in connection with the Brussels attacks, and he is believed to be the "man in the hat" at the Zaventem airport seen with the two suicide bombers Najim Laachraoui and Ibrahim El Bakraoui, the Guardian reported. Belgian authorities Monday released new video footage showing the third airport suspect seen along with suicide bombers at the Zaventem airport before the blasts. An unexploded suitcase bomb was found at the airport.
The Belgian police had conducted multiple raids in the days immediately after the attacks, while terror-related arrests were also made in France and Germany last week.
Protests
Over 200 far-right protesters shouting anti-immigrant slogans in Brussels Sunday were met with police water cannons. Some of the demonstrators also reportedly made Nazi salutes, while other threw explosive objects at police officers, according to NBC News.
Belgian Prime Minister Charles Michel condemned the demonstration, while Brussels Mayor Yvan Mayeur said he was "appalled ... that such thugs have come to provoke residents at the site of their memorial," according to the Guardian.