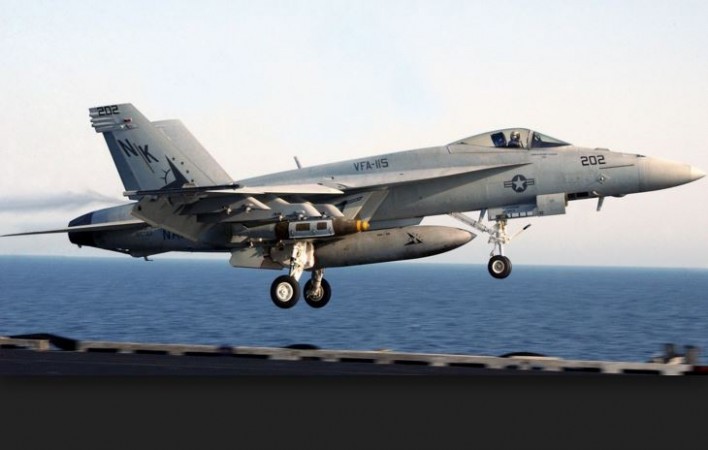 Aircraft-maker Boeing has expressed interest in manufacturing F-18 or F/A-18 jets in India. This is part of Prime Minister Narendra Modi's "Make in India" initiative, which could result in a potential deal worth billions of dollars.
The US-based company's F-18 was earlier in the race to bag an Indian Air Force deal of replacing fighter jets, but lost out to France-based Dassault Aviation's Rafale fighter jets. However, the Rafale deal of buying 36 fighter jets has been stuck over price negotiations, The Economic Times said.
"We are taking a hard look at the opportunity for the F-18 fighter jet as an area where we can build industrial capacity, supply chain partnerships, technical depth, design and manufacturing capability in India, providing an operational capability that is useful for Indian defence forces," Boeing Chief Executive Officer Dennis A Muilenburg told the publication in New Delhi on Tuesday.
He is currently in India for a visit. "Make in India is an enabler aligned with that strategy," he said. Boeing's offer to help India build its own fighter jets is seen as an opportunity amidst the delay in the Rafale jet deal. Defence Minister Manohar Parrikar and his ministry officials have said the government is "open" to buying alternative fighter jets, The Economic Times added.
"Our intent here is to build an industrial framework for the long run that builds on the aerospace investments being made not only by programme by programme, but also by long-term industrial capacity that is globally competitive," Muilenburg said.
The government wants to boost its "Make in India" programme and end the country's dependence on foreign makers. This deal will support the initiative. Boeing is also reportedly in talks with private airline carrier SpiceJet for a large plane order, Business Insider said.