Bobbi Kristina Brown has become the hero of a new movement on social media. While reports speculating about her health continue to do the rounds, Bobbi's cousin Jerod Brown has started a new series of hashtag.
He posted a cryptic message about the singer, saying how it is "time to share your testimony" and that she is in "position for a blessing".
The #PrayForBK hashtag is still going strong post Bobbi's hospitalisation on 31 January and now, Jerod is spreading the word using #GetReadyBK.
Jerod posted a new message with the hashtag #GetReadyBK, referring to the last thing she told him before the tragic bathtub accident at the end of January.
The aspiring singer was found unresponsive in the bath almost five months ago and has been on life support ever since.
He took to Facebook to share the message which read: "Last thing she told me was 'Get Ready Cousin'! Get ready for a beautiful future we was working toward. Something in my spirit is confirming my lil cousin is in position for a blessing. To everyone who is in need of change, know this is your moment! Its not over Bobbi Kris, its almost time to share your testimony! #GetReadyBK."
This is not the first time Jerod has taken to social media to voice his opinion. Almost a week ago, he vent his frustrations about how the maternal side of the family had been dealing with Bobbi's condition, especially her grandmother, Cissy Houston (mother of Whitney Houston).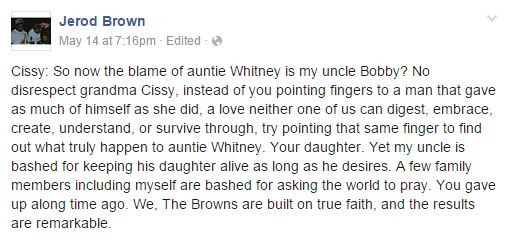 Recent reports suggest that the family is now planning to take Bobbi Kristina Brown off life support, but there has been no official confirmation to date.