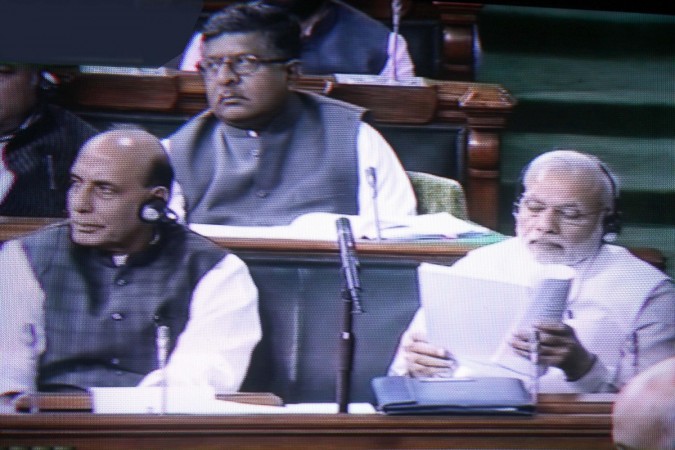 Clarifying on Jammu & Kashmir Chief Minister Mufti Mohammed Sayeed's statement that the Hurriyat, militants and Pakistan allowed conducive atmosphere for assembly elections, Union Home Minister Rajnath Singh said on Monday that BJP-led government dissociated itself from the controversial remark.
"I am making this statement after discussion with and consent of the Prime Minister...We disassociate ourselves from the comment made by Mufti Mohd Sayeed," Singh said in the Lok Sabha, Zee News reports.
Apart from this, Singh said it was the security forces in J&K and the Election Commission who made the 2014 assembly elections successful.
"The elections were held in conducive atmosphere and I want to congratulate people of Jammu and Kashmir...and the conducive atmosphere was due to the Election Commission and the security forces," he added.
Bharatiya Janata Yuva Morcha state president Ravinder Raina reiterated the party's stand on Sayeed's remark. He said that it were the people of J&K, the EC and security forces who made it possible to conduct the polls without any hindrance, and not Pakistan or the Hurriyat who have always caused trouble for India.
"The credit for the recently held elections in Jammu and Kashmir goes to the Election Commission, the Indian Army and Indian paramilitary forces. Pakistan has always caused disturbances and the Hurriyat had put up banners calling for boycotting the elections," Raina said, according to ANI.
"If the elections have been successful, it is because of India's security agencies and the people of Jammu, Kashmir and Ladakh," he added.
PDP patron and the new Chief Minister of J&K, Sayeed, made the remark minutes after the oath taking ceremony of the BJP-PDP coalition government. He stoked a controversy by giving credits to the Hurriyat, militant outfits and "people from across the border".
"I want to say this on record and I have told this to the Prime Minister that the we must credit the Hurriyat, militant outfits for the conduct of assembly elections in the state," Sayeed said.
"People from across the border allowed conducive atmosphere during elections. My humble submission is peaceful elections were not possible, if they had done something. You know how small action was needed to disturb the elections. They allowed this democratic process to go ahead. This gives us a hope," he added.