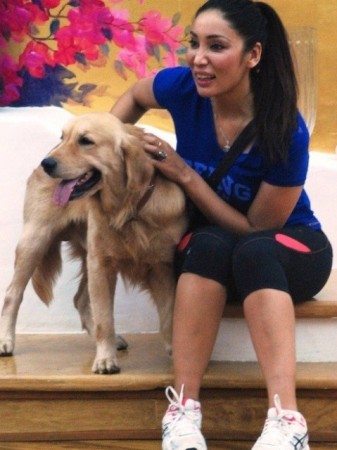 Evicted contestant of reality show Bigg Boss 7, Sofia Hayat has reportedly filed a police complaint against Armaan Kohli for getting violent with her and hitting her.
Sofia and Armaan were involved in nasty brawl and name calling that escalated after Armaan accidentally hit her with a broom stick, due to which Sofia sustained a bruise on her chin.
As per reports, the Brit approached the Santa Cruz police station in Mumbai to lodge a complaint against Armaan for physical assault and defamation. The complaint has been recorded, but First Information Report (FIR) is yet to be filed, as police have directed the singer to lodge the complaint in Lonavala police station, the area where the incident occurred.
Sofia, post her eviction had lashed out at Armaan's aggressive behaviour. "Armaan Kohli is a bastard! He hit me with a mop on my face! My jaw is still hurting. And the sad part is that this act of gross, ugly violence wasn't shown on Bigg Boss! That is really horrible!" she said.
Speaking about her decision to file a complaint against Armaan, she told the Times of India: "Gauahar and Khushal told me 'go to the police.' Why would they say it if Armaan hadn't done anything! Now I'm consulting my lawyers because I have to file suit against Armaan. I have to go to cops against him, because as an international citizen and a woman of dignity, I can't allow anyone to use violence against me and get away with it."
She further hinted that despite Armaan's aggressive stint, his equation with Salman Khan was protecting him in the show. "I don't understand why they are not throwing Armaan out of the show! What is he teaching to the viewers?"
"When I told Bigg Boss that either he should be out or I'm walking out, I was told that I should wait till Saturday. But later, I learnt that Armaan won't be evicted because he is close friends with Salman Khan. Even after the eviction, Salman didn't really blast him, and the whole incident where he hit me, was pushed under the carpet."