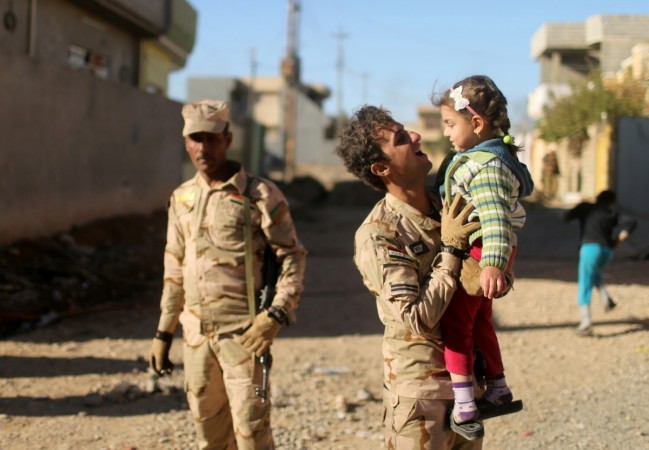 Iraqi troops moved to retake another neighborhood in the eastern sector of the northern city of Mosul but were facing stiff resistance from ISIS militants, according to a top Iraqi commander.
A new analysis, meanwhile, has found that there was high risk that ISIS would deploy chemical weapons against Mosul civilians or Iraqi troops fighting to retake the city.
ISIS has used chemical weapons, including chlorine and sulfur mustard agents, at least 52 times on the battlefield in Syria and Iraq since it swept to power in 2014, according to a new independent analysis.
More than one-third of those chemical attacks have come in and around Mosul, the ISIS stronghold in northern Iraq, according to the assessment by the IHS Conflict Monitor, a London-based intelligence collection and analysis service.
The IHS conclusions, which are based on local news reports, social media and ISIS propaganda, mark the broadest compilation of chemical attacks in the conflict. American and Iraqi military officials have expressed growing alarm over the prospect of additional chemical attacks as the allies press to regain both Mosul and Raqqa, the ISIS capital in Syria.
"The coalition is concerned about ISIS's use of chemical weapons," Col. John Dorrian, a military spokesman in Iraq, told the New York Times on Monday. "ISIL [sic] has used them in Iraq and Syria in the past, and we expect them to continue employing these types of weapons."
Colonel Dorrian said that ISIS's ability to use chemical weapons is "rudimentary," and that American, Iraqi and other allied troops are equipped to deal with the impact of these chemical attacks — typically rockets, mortar shells or artillery shells filled with chemical agents. The effects of these chemical munitions thus far have been limited to the immediate area where they land.
The analysis did not break down the cases by type of chemical attack.
Meanwhile, US forces backing an Iraqi army campaign against ISIS in Mosul carried out an air strike on a bridge spanning the Tigris river, restricting militant movements between western and eastern parts of the city, a US official said on Tuesday.
Five bridges span the Tigris that runs through Mosul. They have all been mined and boobytrapped by militants who took over the city two years ago as they swept through northern Iraq and declared a caliphate in parts of Iraq and neighboring Syria.
Despite planting the mines, ISIS fighters have so far been able to continue using those bridges which have not yet been destroyed by air strikes.