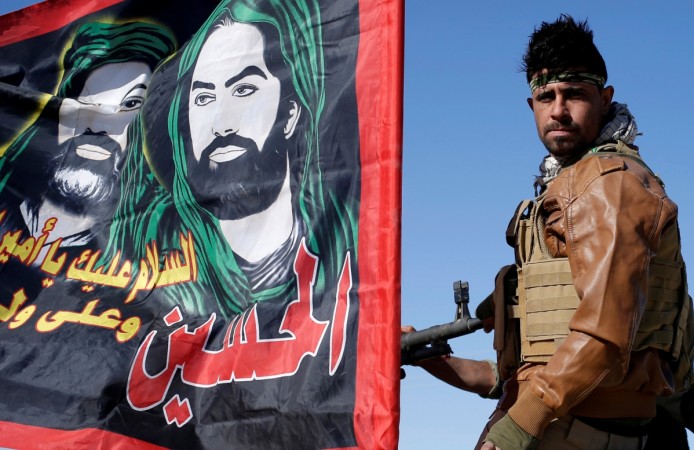 Iraqi Shi'ite militias were massing troops on Monday to cut remaining supply routes to Mosul, ISIS's last major stronghold in Iraq, closing in on the road that links the Syrian and Iraqi parts of its self-declared caliphate.
Five weeks into the US-backed offensive on Mosul, ISIS is fighting in the area of Tal Afar, 60 km (40 miles) to the west, against a coalition of Iranian-backed groups known as Popular Mobilisation forces.
Cutting the western road to Tal Afar would seal off Mosul as the city is already surrounded to the north, south and east by Iraqi government and Kurdish peshmerga forces.
The government's US-trained Counter Terrorism Service unit breached ISIS's defences in east Mosul at the end of October and is fighting to expand a foothold it gained there.
The road to Tal Afar is no longer safe, said a truck driver who used it two days ago to bring in fruit and vegetables from Raqqa, ISIS's Syrian stronghold.
He said he saw three trucks burning on the road while fighting raged in the vicinity. "This is the last time I drive on this road, it will be cut," he told Reuters by telephone, asking not to be identified as the insurgents punish by death those caught communicating with the outside world.
A Popular Mobilisation spokesman said over the weekend that its forces were already advancing to the main highway as part of operations to seal off Mosul. A Reuters reporter said they were massing troops to finish encircling Tal Afar.
Meanwhile, Global Post reported that as the Iraqi army pushes deeper into the densely populated neighborhoods of Mosul, more civilians are escaping the ISIS's clutches every day.
But to be liberated in this city is a dangerous business. Fierce battles have arrived on the doorstep of residents in the east of the city, and to escape they have to negotiate their way through a hail of sniper fire, mortars and airstrikes.
Civilians who make it across the front line recount deadly journeys from their homes to an uncertain future.
"We've been living in those empty houses for a week now," an elderly man who escaped just minutes earlier from the Sukar neighborhood in the east of the city, told Global Post.
"We were being bombarded. We lived in a block of four buildings, the drones completely destroyed them. We realized that situation was not good, we were worried about the kids, so we left," he adds.