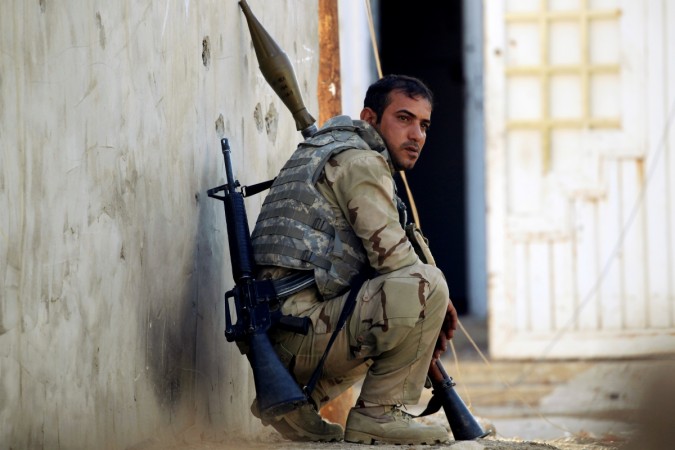 Iraqi special forces cleared buildings on Saturday in neighborhoods they entered in eastern Mosul a day earlier, losing some ground in counterattacks after pushing out Islamic State militants in their drive to take back the city.
Fox News reported that Islamic State fighters launched counterattacks in the thin strip of territory Iraqi special forces have recaptured, emerging from populated areas deeper in the city to target the troops with mortars and suicide car bombs.
The extremists also attacked farther into territory Iraqi forces claim to control, pushing back some gains along the southern edge of the Gogjali district that Iraqi forces declared "liberated" on Wednesday.
Fighting continued in the morning, with both sides firing mortars and automatic weapons on each other's positions, while the Iraqi troops also responded with artillery. Clashes were most intense in the al-Bakr neighborhood.
Sniper duels played out from rooftops in the mostly residential areas, where the majority of buildings are two stories high.
Advances toward Mosul have been slower from the south, with government troops still some 20 miles (35 kilometers) away, yet some advances are being made.
Iraqi forces assaulted IS positions in the town of Hamam al-Alil on Saturday, which lies along the Tigris river about 15 kilometers (9 miles) from the southernmost parts of Mosul.
Kurdish television channel Rudaw broadcast live footage of Iraqi troops and armored vehicles amassing outside the city as an attack helicopter fired rockets into the city.
Iraqi Prime Minister Haider al-Abadi, speaking on a visit to the eastern battle front, said he brought "a message to the residents inside Mosul who are hostages in the hands of Daesh (Islamic State) - we will liberate you soon".
Abadi said progress in the nearly three-week-old campaign, and the advance into Mosul itself, had been faster than expected. But in the face of fierce resistance, which has included suicide car bombings, sniper fire and roadside bombs, he suggested that progress may be intermittent.
"Our heroic forces will not retreat and will not be broken. Maybe in the face of terrorist acts, criminal acts, there will be some delay," he said.