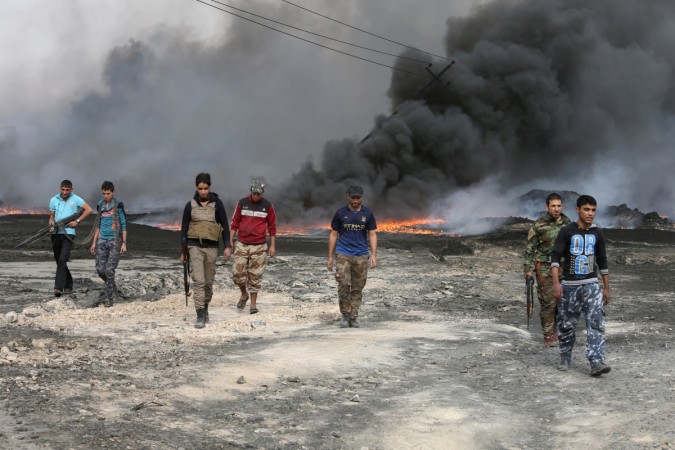 Iraqi forces are securing their foothold in the city of Mosul, moving from house to house to clear areas of Islamic State (IS) militants, the BBC reported.
Iraqi special forces paused their advance on Wednesday, as poor weather hampered visibility and troops attempted to clear a recaptured neighbourhood of any remaining militants, military officials said.
Special forces could be seen going house to house in the Gogjali neighbourhood of the country's second-largest city, while sappers searched the road for explosives and booby traps left behind by the jihadi fighters as they were driven out of the eastern district a day earlier.
Gen. Abdul-Ghani al-Asadi, the top counterterrorism forces commander, told reporters that the special forces had imposed a curfew in the neighbourhood, while gains there were being consolidated.
"We fear that Daesh militants could attack our forces or the town with mortars," he said, using the Arabic acronym for IS. "So, for the safety of the families, we ask them to stay inside their houses," he said in Bartella, some 15 kilometers behind the front lines.
The pause came a day after Iraqi troops set foot in the city for the first time in more than two years, gearing up for urban warfare expected to take weeks, if not months.
In the next stage, troops will have to navigate streets likely lined with booby traps, fighting house-to-house while trying to avoid killing civilians, more than one million of whom are still in the city.
Iraqi forces also say they are advancing on the southern approach to Mosul, a front where they have been making slower progress than to the east.
An aid agency warned that civilians there are in great danger as the battle for the city intensifies.
"We are now bracing ourselves for the worst," said the Norwegian Refugee Council's Wolfgang Gressmann. "The lives of 1.2 million civilians are in grave danger, and the future of all of Iraq is now in the balance."
The group said thousands of civilians have already fled the city, and many have already been killed by snipers and explosives.
Those still in the city are in need of food, water and medical supplies, and those shortages will intensify as the fighting makes it more difficult for supplies and other humanitarian aid to get through.