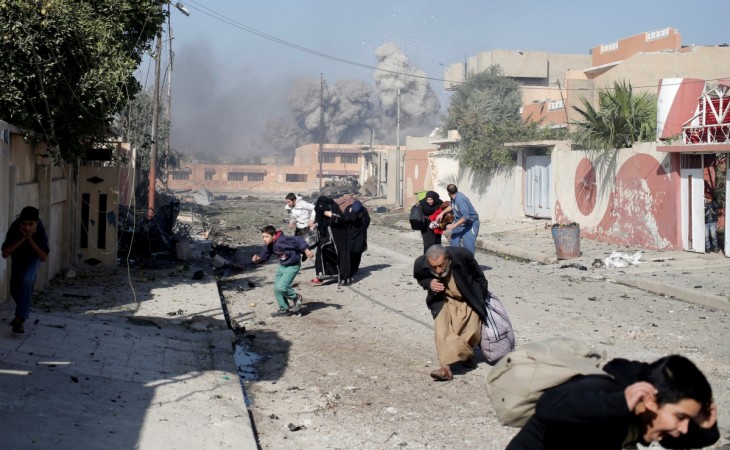 One month ago Iraqi special forces launched their attack on the ISIS nerve center in Mosul. One month later, they're entrenched in a brutal urban war, which is seeing neither side give nor seek any quarter.
Initially the Iraqi advance was swift and had ISIS reeling from its ferocity. But in the confines of narrow urban bylanes, and as heavy weaponry plays a diminishing role in what has effectively become close-quarters combat, that pace has slowed to a crawl.
Iraqi troops advanced cautiously into eastern districts of Mosul on Friday, facing stiff resistance from ISIS militants a day after they paused their assault due to poor visibility, officers said.
Airstrikes, automatic fire and artillery were heard from dawn and one soldier was reported killed in clashes. Civilians, some of them wounded, could be seen fleeing the fighting.
According to the officers, the Iraqi forces aim to take complete control of the city's Tahrir area and from there move into the adjacent Muharabeen district.
Iraqi forces have advanced the furthest and faced the heaviest resistance in Mosul's east. Iraq's special forces say they control significant pockets of four of Mosul's easternmost neighborhoods: Zahra, Qadisiya, Tahrir and Gogjali. The territory measures less than a tenth of the city's total area.
Inside those neighborhoods, Iraqi forces are now surrounded by thousands of civilians as they continue to push to the city center. The presence of civilians has already thwarted the use of overwhelming air power to clear territory.
ISIS leader is increasingly paranoid
Meanwhile, the Daily Mail has reported that ISIS leader Abu Bakr al-Baghdadi is sleeping in tunnels with a suicide vest after becoming increasingly paranoid about his closest team.
The report, which cites an informant, states that he "is cowering beneath besieged Mosul while continuing to send jihadists to their death in the battle for the city".
The information comes after a person inside Mosul started sending text messages (seen by Reuters) to Iraqi military intelligence in Baghdad.
Baghdadi "has become intemperate", said the early November message, written by an informant inside the city who has contact with the group but is not a member of it.
"He has cut down on his movements and neglects his appearance," the message read. "He lives underground and has tunnels that stretch to different areas. He doesn't sleep without his suicide bomber vest so he can set it off if he's captured."