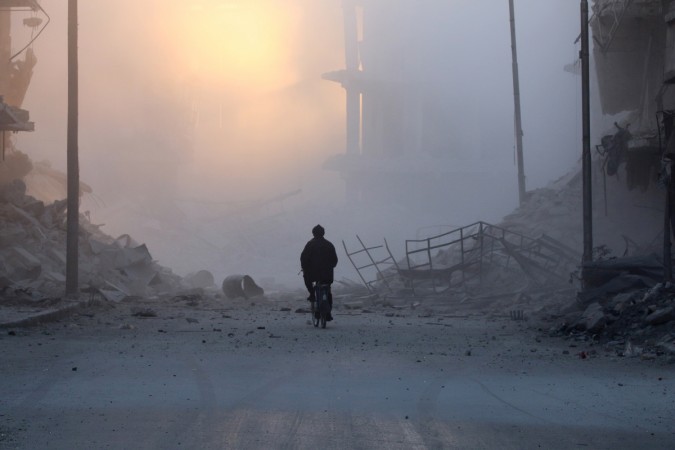 The Syrian army said it had taken control of an important district in rebel-held eastern Aleppo after fierce fighting, with rebels blaming intense air strikes and lack of hospitals for their collapsing frontline.
Government forces advanced with a ground and air assault on the edge of the besieged eastern half of the city, a move the rebels say is designed to split their most important urban stronghold in two.
Aleppo, which was Syria's biggest city before the start of a civil war that has killed hundreds of thousands of people, is divided between the government-held west and rebel-held east, where UN officials say at least 250,000 people are under siege.
Capturing all of Aleppo would be a major victory for Syrian President Bashar al-Assad after six and a half years of fighting.
The government resumed its offensive to retake eastern Aleppo on 15 November. Some 275,000 people are under siege.
The assault has killed 212 civilians, the UK-based Syrian Observatory for Human Rights says.
Among the victims were 27 children, the monitoring group added. Reports suggest there is a lack of medical supplies and food.
Masaken Hanano was the first neighbourhood in Aleppo taken by rebels in 2012.
Syrian forces, now in "full control" of the district, were clearing the area of mines and bombs, state news agency Sana said.
Soldiers were now just metres away from isolating the northern districts of east Aleppo from the southern ones, Abdel Rahman, from the Syrian Observatory, told AFP news agency.
The group said other areas of Aleppo were also targeted.
Meanwhile, a Syrian official Saturday blasted Turkey, saying it is to blame for the death of its soldiers because it sent them to Syria. Meanwhile, the Syrian army said troops have captured a neighborhood in the northern city of Aleppo days after the government resumed its offensive on the besieged rebel-held eastern part of the city.
Syria's deputy foreign minister Faisal Mekdad's comments were the first by a Syrian official since Thursday when three Turkish soldiers were killed in northern Syria in what the Turkish military said was a pre-dawn Syrian airstrike. The account was disputed by Syrian activists who said the soldiers were killed by a suicide attack by the Islamic State group the day before.
Since then, two more soldiers have been killed over the past two days in fighting near the town of al-Bab, an IS stronghold.
"Turkish policies are responsible for the tension in Turkish-Syrian relations," Mekdad told the Lebanon-based Pan-Arab Al-Mayadeen TV. He added that Turkey took part in sending foreign fighters into Syria and armed them "in order to destroy Syria and Syrians."
Mekdad did not confirm or deny whether Syrian aircraft were behind the attack that killed the three Turkish soldiers but said that "if the Turks want to complain they should complain to themselves. What happened was inside the territory of the Syrian Arab Republic."