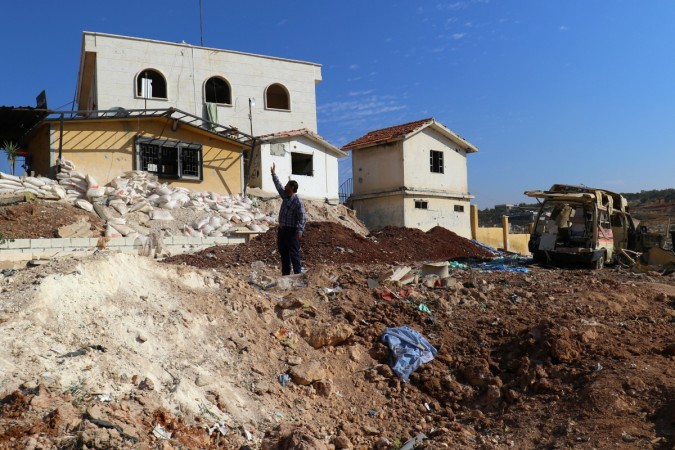 UPDATE: At least 21 people -- including four children -- were killed in a blitz over eastern Aleppo on Wednesday. The Al-Shaar neighborhood appeared to be the worst hit, with nine barrel bombs striking the Children's Hospital, Al-Bayan Hospital and the Central Blood Bank, staff on site with the Syrian American Medical Association (SAMS) told CNN. Buildings nearby were completely flattened. At least 50 others have been wounded, the activist group Aleppo Media Center said.
---
On Tuesday, all hell broke loose over Aleppo again.
The beleaguered city was struck by air strikes from Russian jets launched from the aircraft carrier, Admiral Kuznetsov. It's a city where rubble has become the new urban architecture and where civilians try to eke out an existence amid the warring factions.
This is no longer a war against ISIS; this is anti-Assad rebels versus Syrian government forces backed by the considerable might of Russia. If Total War were still a thing, in this age of surgical strikes and insurgencies, then this is as close as we've come to it.
Despite a text message warning civilians in Aleppo, sent allegedly by government forces, telling them to "flee or die", more than 300,000 men, women and children remain either trapped in the city, or simply unable to find the means to leave.
And it wasn't just air strikes that hit the city. Kalibr cruise missiles were fired from a Russian guided missile frigate off the coast, and the military pummelled rebel positions with Bastion missiles.
Aleppo today is a war-torn cry from the industrial hub – manufacturing textiles and pharmaceuticals -- it was before the conflict began.
The Los Angeles Times reported that it once housed a population of three million people. Layramoun alone was home to approximately 1,600 companies.
Military strategy experts believe that this latest assault on Aleppo could signal the endgame in what has become a protracted conflict.
Russia used the Syrian civil war to not only showcase its modern weaponry but to bolster military support for the flailing regime of Syria's leader Basher al-Assad.
While ISIS was caught in the crossfire between rebels and government forces, and did suffer major setbacks, their fading operational status in Syria is more down to the intense battles being fought in Iraq, rather than any decisive strikes by the Syrian and Russian armed forces.
Now, as a growing number of countries look to step into the Syrian fray – with varying levels of intensity – and all truces lie in tatters, the new Battle for Aleppo could be the turning point of the war.
One thing's for certain, whoever wins – in as much as someone can win, when the spoils are utter devastation – innocent civilians lose.