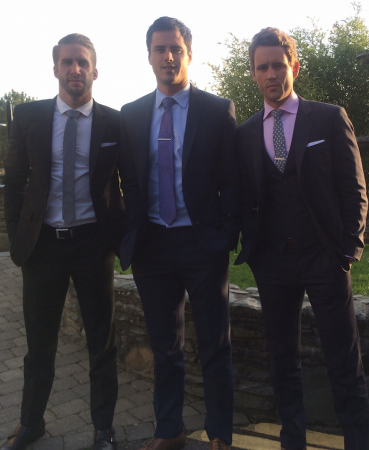 "Bachelorette" Kaitlyn Bristowe has two more Fantasy Suite dates before she decides who will go home on Monday's episode of ABC dating reality show.
The 13 July episode will pick up from where the previous episode left off, with Shawn Booth confronting Nick Viall about his relationship with Bristowe. Things are going to get ugly between the two, and according to spoilers, she will have a talk with Booth regarding his behaviour towards Viall.
Previewing what's in store for Booth on Monday's episode, "The Bachelorette" host Chris Harrison told TVGuide that a "confrontation like this is unlikely to stay quiet."
"Shawn was like Mount Vesuvius boiling over and at some point this was going to happen. While Shawn was smart enough to not have a confrontation in front of Kaitlyn, you knew there would be one -- he loves Kaitlyn too much and hates Nick too much to let this go. [The argument] is pretty incredible and we pick up next week where we left off."
Will Booth's impulsive reaction result in him being sent home? Chances are dim, as according to spoiler guru Reality Steve, Ben H will be the unlucky one in week 9.
According to the synopsis of the episode, Ben H will land the second overnight date with Bristowe, and the duo will "tour the Irish countryside on horseback." During this time, the contestant is even expected to confess his love for Bristowe. But this might not be enough to keep him in the race.
Following the overnight dates, the show will move forward to the hometown dates. But unlike the previous years, the Bachelorette won't head over to the bachelors' homes. Instead, the final two – presumed to be Viall and Booth – will introduce their family members to Bristowe in a private resort in Park City, Utah.
"The Bachelorette" Season 11 (2015) Episode 10 (Week 9) will be aired on 13 July at 8pm EDT on ABC.