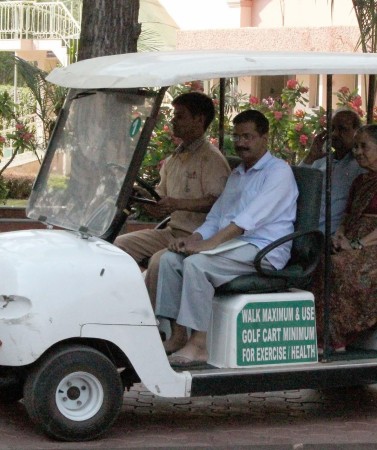 Delhi Chief Minister and Aam Aadmi Party chief Arvind Kejriwal who was undergoing naturopathy treatment for high blood sugar and chronic and persistent cough at Bengaluru's Jindal Nature Cure Institute, will be discharged on Monday.
"The Delhi Chief Minister who was admitted here on March 5 for his chronic cough and asthma-related problems will be discharged from the institute by 2 pm tomorrow," Dr Babina Nandakumar, Chief Medical Officer of the Institute, was quoted as saying on Sunday, according to News Nation.
She said Kejriwal will leave Bengaluru with a much better health condition.
"His current sugar level is, fasting at 90mg/dl and post prandial at 130mg/dl and his medication has been reduced to 30 per cent compared to at the time of his admission to this institute," Dr Nandakumar said.
The Chief Medical Officer also said that Kejriwal's chronic cough has reduced by 75%. She added the improvement in Kejriwal's health could continue if he follows a regular routine comprising a balanced diet, exercises and meditation.
Kejriwal is likely to be said to go through a brief counseling and motivational session to lead a good and healthy life.