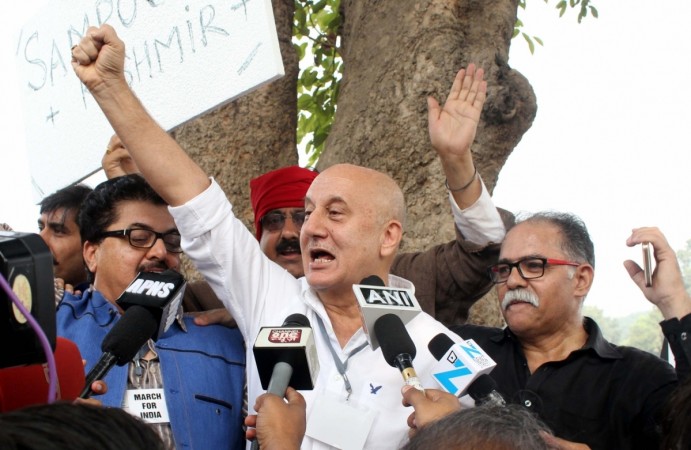 Actor Anupam Kher, who recently found himself in the eye of a controversy after he tweeted that Pakistan refused to issue him a visa, has now rejected Pakistan High Commissioner Abdul Basit's offer for one. He claimed on Wednesday he was no longer available for the duration of the Karachi Literature Festival.
On 2 February, Kher had alleged that Pakistan had rejected his visa application. He was due to attend the Karachi Literature Festival that begins on 5 February.
Abdul Basit, in response, said Kher had not applied for a visa.
"Dear @abasitpak1, Reality remains that Pak Interior Ministry refused to grant NOC for my visa. 17 others invited also didn't apply for visa. (sic)," Kher tweeted on 2 February.
KLF director Ameena Saiyid told local media she was told to ask Kher to not apply for a visa by the Pakistan High Commission as he would not be issued one, reported The Hindu. "They told us that the remaining 17 guests invited from India should be asked to submit applications as they would be issued visas," she said.
Kher, who held a press conference on Tuesday at his acting school in New Delhi, was quoted by The Hindu as saying: "I am not angry, I am hurt, upset. Of the 18, why was I singled out? It could be either because I am a Kashmiri Pandit. I am not playing a card of Kashmiri Pandit and trying to divide people. Or because I've spoken about the issue of intolerance, taken a stand and have applauded my prime minister. Otherwise, there is no logical reason why visa was denied to me. This has happened for the third time."
The Padma Bhushan-awardee had organised a protest march in November 2015 against noted writers and celebrities who returned awards conffered to them by the government as they believed intolerance was rising in India. He has also been vocal on the Kashmiri Pandit issue, his support for the Bhartiya Janta Party and Prime Minister Narendra Modi.
@AnupamPkher sorry Sir I don't know who told you about this so-called NoC, we are still to receive your visa application and passport

— Abdul Basit (@abasitpak1) February 2, 2016
Thank you Mr. @abasitpak1 for your call & offering me visa to visit Karachi. I appreciate it. Unfortunately i've given away those dates now.

— Anupam Kher (@AnupamPkher) February 3, 2016