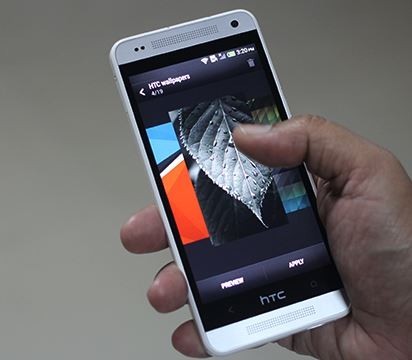 Taiwanese firm, HTC has finally begun rolling out the new OS update with a slew of enhancements to its 2013 flagship model HTC One in India.
The company's India arm took to official social platforms - Facebook and Twitter to confirm the news. "At HTC, we always aim to deliver the very best experience through our smartphones. With the HTC One, this is no exception. Please note that you can now update your software to the latest HTC Sense 5.5 with Android 4.3 for the #HTCOne," the post read.
The new firmware is expected to bring in enhancements in BlinkFeed, HTC Zoe, Sense TV, Video Highlights, HTC Share, Quick Settings, and other improvements. With the update, the users will also get 40GB cloud memory via Google Drive, company added.
Sense v5.5 UI update will give an option of integrating Instagram and Google+ and other select social platforms in the BlinkFeed. Other improvements include additional themes and tools in photo editor like GIFs maker to design small animated photo and improved Zoe photo gallery. Other mentionable change is that users if not interested with BlinkFeed interface, can disable it completely.
To check for new software update availability on your smartphone,
Go to Settings > About > Software Updates > Check now.
[Note: The new update is available for only the single-SIM variant, HTC One dual is expected to receive the update later]
Other improvements expected from Android v4.3 Jelly Bean update:
Keyboard and input: The keypad is said get an improved algorithm for tap- typing, making text messaging less cumbersome. It is also said to enhance gamepad.
Dial Pad: enhanced Auto-complete feature will predict more accurate phone-numbers and names. Users will also have the options to enable or disable the feature at phone settings.
Location: Feature will enable the phone to automatically detect the Wi-Fi hot-spots without turning on the Wi-Fi mode all the time.
Settings: New tab is introduced to let users check which applications are active or disabled.
Language support: More dialects are included in the new v4.3 Jelly Bean OS and it can now support Hindi as well.
Graphics: V4.3 will now allow smartphones to support the industry's latest Open GL ES 3.0 graphics.
Network: Bluetooth Smart (Low Energy) support will make smartphone use less power while transferring data between devices.
Daydream: This new feature will enable users to browse through the photos via easily accessible albums.
Restricted Access: Once updated with 4.3 Jelly Bean, users can create profiles for guest user with restricted access to apps and other contents.
In related news, HTC One Google Edition variant exclusively sold in US is set to receive the newly unveiled Android v4.4 KitKat in few days time, whereas the HTC One with custom Sense UI are expected to receive the update in 90 days. Apart from US, HTC One in EMEA (Europe, Middle East and Africa) regions will be able to taste the new Android flavour by January end.