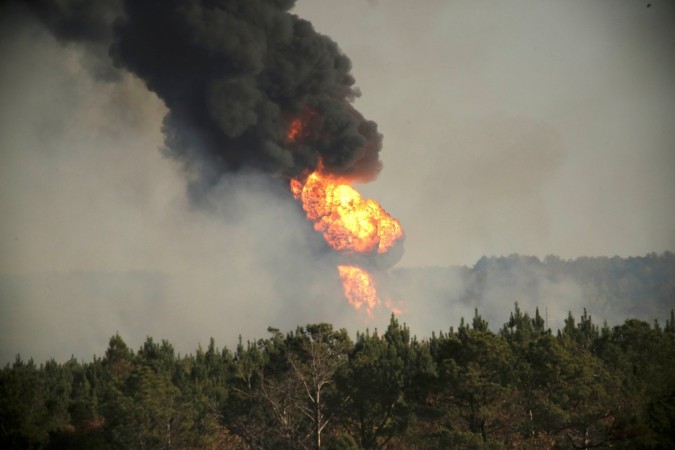 The biggest fuel pipeline in the United States has shut its mainlines after an explosion and fire in Alabama that killed at least one person, Bloomberg reported.
Colonial Pipeline, which carries refined products to New York Harbor from Houston, has shut the lines for the second time in two months. A contract crew working miles from the site of a September 9 spill ran into the pipeline with a trackhoe, igniting gasoline and causing a fire, Colonial said in a statement.
One person died at the scene and five others were transported to Birmingham-area hospitals for treatment. The spill in September shut the line for 12 days, cutting supplies to 50 million Americans in the Southeast.
The pipelines remained shut and fire continued to burn as of 10.45 pm Monday local time, Colonial said in the statement.
Emergency crews have built an eight feet tall and 80 feet long barrier to contain the burning fuel, Alabama Governor Robert Bentley wrote on Twitter. Major fuel suppliers began notifying wholesalers in South Carolina late Monday of allocations.
The south-eastern US is "highly dependent on pipeline supplies from Colonial and, ultimately, Colonial flows form the baseline of the US East Coast supply," Robert Campbell, head of oil products research at Energy Aspects in New York, said in a note.
The longer the mainlines are offline, "the more upward pressure will be placed on US East Coast fuel prices, while downward pressure will be exerted on US Gulf Coast product prices."
"Typically, we don't see external damage to a pipeline from ground-level activity, whether it's human or weather-related, except for some third party striking the pipeline with a piece of excavation equipment," Brigham McCown, former administrator of the federal Pipeline and Hazardous Materials Safety Administration told AL.com, last month.
"That's now the leading cause of pipeline spills and accidents," he added.