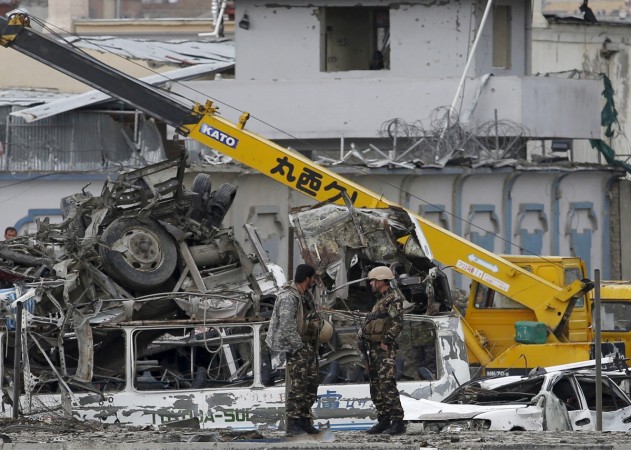 Update: 2: 37 p.m. — At least 11 people were killed and 10 injured in a suicide bombing, aimed at a bus carrying court employees in the outskirts of Kabul city of Afghanistan, according to Pajhwok Afghan News.
Since the beginning of this year, at least 14 attacks against judges, prosecutors and judicial staff have been carried out in the country, tweeted United Nations Assistance Mission in Afghanistan (UNAMA).
"Attacks against judicial authorities are cowardly and contrary to international humanitarian law," Nicholas Haysom UNAMA chief tweeted on Wednesday.
Update: 12:56 p.m. IST — A suicide bomber on Wednesday attacked a bus carrying Afghan court employees, killing at least 10 and injuring four, on the outskirts of Kabul, said Najib Danish, a spokesman for the interior ministry. No terrorist group has claimed responsibility for the attack yet.
Original Story — At least 10 people were killed and four wounded in a bomb attack in Afghanistan's capital city of Kabul on Wednesday, TOLO News reported. It is not clear whether the blast was a suicide attack or a roadside bomb.
The blast, aimed at a bus carrying court employees, took place in the outskirts of Kabul city. The attack in Bagh-e-Daoud area of Paghman district occurred when the officials were travelling to Wardak district.
No group has claimed responsibility for the attack yet.
Bomb blasts in buses carrying government employees is commonplace in the city.
The Taliban and the Islamic State group are active in the country. The Afghan government, the U.S., Pakistan, China and Russia had tried bringing the Taliban to the table for talks over ceasing hostilities in the country. However, after the U.S. recently killed the leader of Taliban in a drone attack in Pakistan, it seems the talks fell through.
The Afghan Taliban have announced a new leader, Mawlawi Haibatullah Akhundzada, as replacement for deceased Mullah Akhtar Mansour.