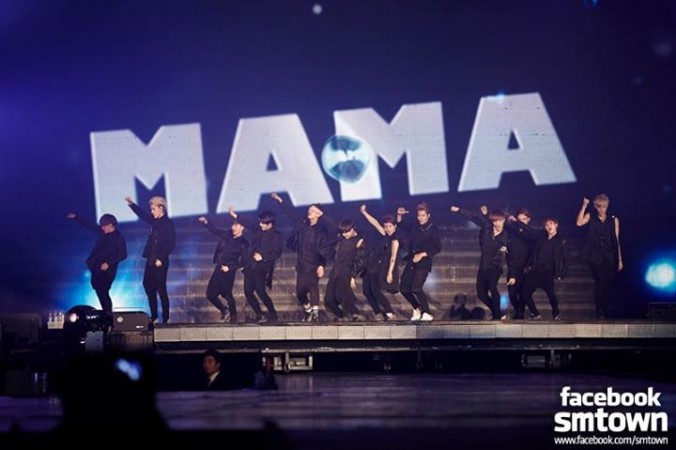 EXO fans across the globe celebrate the third anniversary of their favourite Chinese-South Korean boy band on Twitter with "#3yearswithEXO" hashtag and many of them did not forget to mention former members Kris (Wu Yifan) and Luhan.
The group, formed by popular record label SM Entertainment in 2011, released their debut single "Mama" on 8 April, 2012, with 12 members. The album ranked 89 in Billboard's K-Pop Hot 100 list.
Currently, the band has only 10 members: Suho, Baekhyun, Chanyeaol, DO, Kai, Sehun, Xiumin, Lay, Chen and Tao; and they released their second album, "EXODUS", on 2 April.
Although Kris and Luhan are not part of the team, fans still remember their contribution to it and many of them have cherished their memories by posting quotes and photos of their favourite celebs on Twitter.
Here are some of the fan tweets on EXO's 3rd anniversary:
Thank you to the EXO-Ls who stayed! Thank u guys also for not forgetting Krishan
debut 8/4/12 8 korean+4 chinese=12 members OT12 ll always remain as a beautiful memory,a gift of the past that I'll treasure
OT12 will always be the greatest memory given by EXO to the whole fandom.
Never forget that Kris said if he wasn't an EXO member he'd be EXO's no.1 fan
#3yearswithEXO i knw somebody will judge me,but letting go of something that u love is a hardest thing.krishan pic.twitter.com/zHx1uXTNZ7
— Kenny Mia Hermanus (@kennymiaa_) April 7, 2015
"@onlyeols: Remember when Junmyeon hugged Kris on EXO Showtime... #3yearswithEXO pic.twitter.com/Pbk59sIswD" — Yum (@ningrumkristia) April 7, 2015
It is hard to forget someone who gave you so much memories to remember 10 in our 12 in our ❤ 4ever #3yearswithEXO pic.twitter.com/ABJZ4ZSexq
— BaeSuzYifanWu (@KLoverJoelein) April 7, 2015
Happiest moment OT12 forever in my heart #3yearswithEXO pic.twitter.com/fu2MTyBIu8 — sittie_凡凡 (@WuKRIStyle) April 7, 2015
10 in our eyes 12 in our heart Wu Yi Fan and Lu Han with EXO still in our memory now n forever #3yearswithEXO pic.twitter.com/CnlruJl4QE
— 凡 Meigeni (@Wu_YiFan1106) April 7, 2015
RT @EX0FFICAL: #3YearsWithEXO OT12 will always be the greatest memory given by EXO to the whole fandom. pic.twitter.com/QHHlyAu6Ae — BaekhyunCallmebaby (@n0506baekhyun) April 7, 2015
"@onlyeols: Remember when Kris wrote EXO, together forever" on the lock at Namsan Tower #3yearswithEXO pic.twitter.com/1TrOsUfY23"CRIES
— tick tick boom boom (@catchingtao) April 7, 2015
It was so hard to see u walk away but u always stay as EXO members #krishan #3yearswithEXO pic.twitter.com/lqzg6Njx9P — Yo yo yo Mr Lu ♥. (@bluesky952) April 7, 2015
#3yearswithEXO 12 in our heart, 10 in our eyes. pic.twitter.com/yOp0sue7QD
— Zyrah Kae Cruz (@keeeyycruz) April 7, 2015