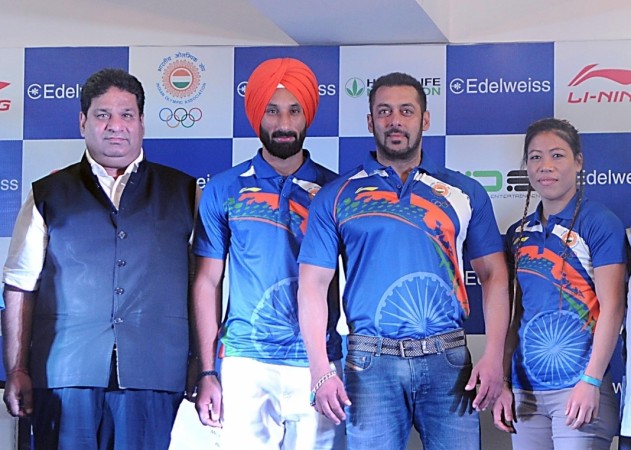 "Sultan" and "Bajrangi Bhaijaan" actor Salman Khan's appointment as goodwill ambassador for the Indian contigent in the 2016 Rio Olympics has kicked up a storm. After Milkha Singh and Yogeshwar Dutt questioned the Indian Olympic Association's (IOA) decision, the Bollywood superstar found support from Mary Kom, Abhinav Bindra and Sardar Singh.
The union sports ministry has refrained from questioning the IOA over appointing Salman.
"Indian Olympic Association is an elected autonomous body. The sports ministry doesn't interfere in its day-to-day functioning," Union Sports Minister Sarbananda Sonowal told NDTV, adding: "Our ministry would like to encourage public figures from all walks of life to encourage sports in the country."
It is also reported that the ministry has welcomed the decision of getting a non-sportsman to don the hat of an ambassador for the Indian contingent at the quadrennial mega sporting event.
The IOA reasoned that Salman would grab several eyeballs during the event and also raise the popularity of the Olympics in the country. The Olympic body also said they have plans to rope in more celebs from the fields of music and cricket to motivate the athletes, according to a Press Trust of India report.
"We are very happy and thankful on Salman's offer to support Olympic Sports in this country. This association is only a gesture and does not include any monetary consideration," IOA secretary General Rajiv Mehta said in a statement.
"Our key objective of bringing him on board is to draw maximum attention from the masses, due to which there will be more eyeballs and viewership which will eventually result in popularising Olympic sports in the country. We may appoint more icons from other walks of life like music, cricket, art culture and Olympic sports etc.
"Salman Khan is only being appointed from the Bollywood segment and we are in talks with two other big names in music and cricket. We are more than willing to have as many icons including the likes of Anju Bobby George and PT Usha, who have the capacity and capability to popularise Olympic sports in the country," he added.
Sardar Singh lauded the immense fan base of Salman and said it was a wise decision to have him on board. "Salman has a huge fan base. He has good views on sports and it's a good thing for Indian sports that he has come on board," the India hockey team skipper said. "A lot of people are getting connected to Olympic sports because of him. (But) People are entitled to their views. I respect their opinion."
Star boxer Mary Kom said having a celeb like Salman on board was a good thing for athletes. "It hasn't happened before, it's a good thing for the athletes. It's good for us to have a brand ambassador like him," the Manipuri said.
Abhinav Bindra, who had won gold in the 2008 Beijing Olympics, echoled similar sentiments in welcoming Salman's appointment as the goodwill ambassador.