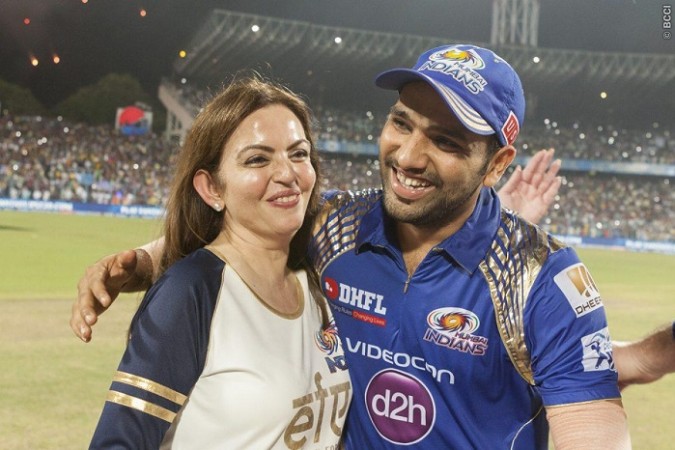 Mumbai Indians, who are one of the most successful teams in the IPL, winning the title twice in 2013 and 2015, retained 19 players from the squad that won the last edition of the competition. With some big players included in the 2016 IPL Player Auction, which is scheduled for Saturday in Bengaluru, the Mumbai Indians will be keen to sign those players, who can bolster their squad and help them increase their chances of winning the title.
Mumbai already have some incredible India players in their squad, which includes skipper Rohit Sharma, Harbhajan Singh, Jasprit Bumrah and Hardik Pandya, all of whom were part of the India squad in the recently concluded T20 series against Australia. Such a representation of MI players in the India team makes team owner Nita Ambani proud.
"It gives me immense pride to see MI finds such as Hardik, Bumrah performing so well for the country," Cricbuzz quoted Nita as saying.
Mumbai have players of good quality in their squad, they let go some quality ones, such as Aaron Finch. They retained some top foreign players in their squad, which includes Lasith Malinga, Kieron Pollard and Corey Anderson.
Mumbai have retained the most number of players (19) among all the participating teams in the ninth edition of the IPL. Sunrisers Hyderabad and Kolkata Knight Riders are second, having retained 15 players each.
With the defending champions retaining such a big number of players, they have the lowest purse for the auction, as it stands at Rs 14.40 crores. With 19 players in their squad already, they may not buy more than 6-7 players.
They seem to have all their bases covered with batsmen such as Rohit, Ambati Rayudu, Corey Anderson and Lendl Simmons. Lasith Malinga, Harbhjajan Singh and Merchant de Lange will shoulder the bowling responsibility, while Pollard and Pandya will be their key all-rounders.
However, in order to bolsters their squad they might be keen to sign some quality batsmen, who are always in high demand. With Martin Guptill, Kevin Pietersen, Shane Watson, Colin Munro, Yuvraj Singh and Travis Head in the 2016 IPL Player Auction pool, Mumbai will be happy to get one of these star players, who can add value to the team.
Owner Nita Ambani will discuss the auction strategy with coach Ricky Ponting, and go by what the Australian legend deems necessary.
"We will evaluate the available options based on our need. Our coach is here and we will be collectively discussing our options," Nita said.