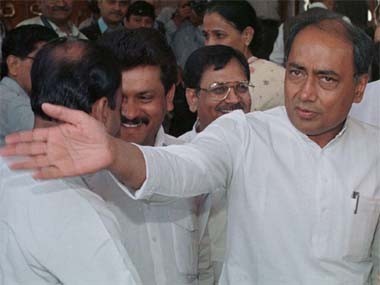 Congress spokesperson Digvijaya Singh slammed Gujarat Chief Minister Narendra Modi for criticising the UPA government and said he is incapable of changing his stance even on sensitive issues.
Singh further challenged the NDA prime ministerial candidate for a debate over national issues and development with any Congress leader.
Modi launched a full-scale attack on the incumbent UPA government while addressing his NRI supporters through a video conference on Sunday. He brought attention to the increasing number of terrorist attacks, especially Saturday's incident at a shopping mall in Nairobi, Kenya.
"Let us get the forces of humanity together and make the world free of terror. There cannot be different prisms for violence and terrorism. Some nations are selective on this," Modi had said.
Singh was quick to dismiss Modi's talk on inclusive politics, wondering whether a 'leopard' can 'change its spots'.
Modi had further stated that "NDA gave people a new hope that 21st Century will be India's century but in past decade, India has moved backwards. Dreams are shattered! We (BJP) want that our nation should not lag behind."
Singh lashed out at Modi on micro-blogging site Twitter and alleged that the Gujarat CM was giving "fake figures" of growth during the NDA regime.
"UPA has fulfilled every promise made. Empowered people by giving Rights on Information, Education, Food Security to Women Tribals and to Work. UPA giving its report card every year on every issue.Would Modi pl get his team to look at the UPA Govt website instead of abusing ? FEKU MODI at his best.Giving fake figures of growth during NDA regime," tweeted Singh.
"The list can go on. Would Modi have courage to debate with one of us on issues of governance, development and other National Issues?" the Congress leader added.
He reiterated the Congress motto for the upcoming Lok Sabha elections set by Vice President Rahul Gandhi at a recent Rajasthan rally, saying, "Modi wants CONGRESS MUKT BHARAT AND WE WANT BHOOK MUKT BHARAT ! He backs PRIVILEGED Congress backs UNDERPRIVILEGED. Choice is yours !"