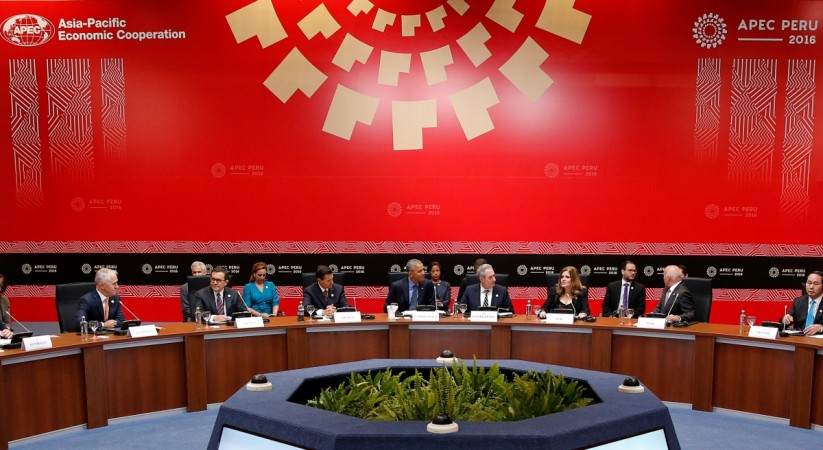 President-elect Donald Trump's announcement that he plans to quit the Trans-Pacific Partnership trade deal may spell the end of the dozen-nation trade pact — at least in its original form.
But other Pacific Rim leaders are vowing to pursue market-opening efforts they view as vital for their own countries' future growth. Meanwhile, China also is moving ahead with rival free-trade initiatives.
Trump's message, in a short video on his future administration's plans, was issued just after leaders of the Asia-Pacific Economic Cooperation group ended their annual summit Sunday with a unified call to fight the backlash against free trade highlighted by Trump's victory and Britain's vote to leave the European Union.
In an annex to their summit statement, the APEC leaders gathered in Lima, Peru, voiced support for the TPP, which has been envisioned as a step toward building a wider, pan-Pacific free trade zone.
Speaking after his return home, New Zealand Prime Minister John Key told reporters Tuesday there were alternatives.
"The United States isn't an island. It can't just sit there and say it's not going to trade with the rest of the world," Key said. "At some point they're going to have to give some consideration to that. But naturally, we're a bit disappointed."
Trump described the 12-nation trade pact as a "potential disaster for our country." He has also said he wants to renegotiate the North American Free Trade Agreement.
10 Things You Should Know About The TPP

The Trans-Pacific Partnership (TPP) or Trans Pacific Partnership Agreement (TPPA) is a trade agreement among twelve of the Pacific Rim countries—notably not including China.
The TPP contains measures to lower both non-tariff and tariff barriers to trade, and establish an investor-state dispute settlement mechanism.
The agreement cuts over 18,000 tariffs. Tariffs on all US manufactured goods and almost all US farm products would be eliminated completely, with most eliminations occurring immediately.
According to the Office of the United States Trade Representative, the "TPP includes the most robust enforceable environment commitments of any trade agreement in history".
Signatories are required to join the United Nations Convention Against Corruption (UNCAC); criminalize bribery of public officials; have in place a code of conduct for public officials; take measures to decrease conflicts of interest;
The TPP prohibits exploitative child labor and forced labor; ensures the right to collective bargaining; and prohibits employment discrimination.
The intellectual property section of a leaked draft of the TPP lays out a minimum level of protection parties to the Agreement must grant for trademarks, copyright, and patents.
TPP 'aligns with the Doha Declaration on TRIPS and Public Health', which allows developing countries to circumvent patent rights for better access to essential medicines.
The TPP agreement establishes an investor-state dispute settlement (ISDS) mechanism, which grants investors the right to sue foreign governments for treaty violations.
The TPP imposes 'binding and fully enforceable obligations' on signatories to 'protect the freedom to form unions and bargain collectively' and 'eliminate exploitative child labor and forced labor protect against employment discrimination'